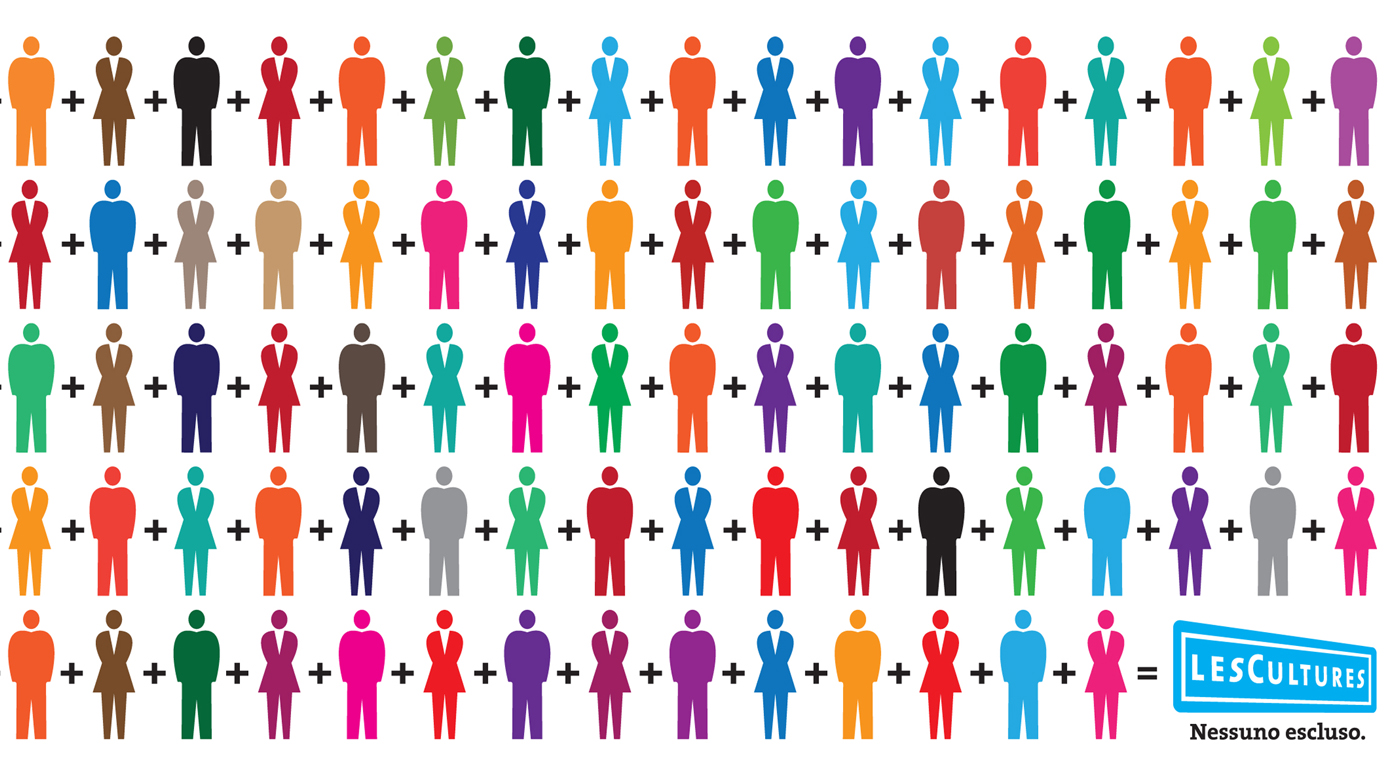 Les Cultures – Laboratorio di cultura internazionale is a non-partisan and non-profit organization established in Lecco in 1993 by 9 members coming from 7 different countries. The headquarters is in Lecco and there are two operational centers, one in Agadez (Niger) and one in Chernigov (Ukraine).
We believe in a world free from prejudice, poverty and discrimination that rejects war and economic and social injustice. We believe in a world that embraces contributions coming from different cultures and supports the development of an open and inclusive society.
We aim to turn identity, political and cultural boundaries into contact points where cultural exchange and communication take place.
Our activity is based on equal rights, respect for diversity, solidarity and justice.
These values become concrete through the commitment of us all, ensuring transparency and partnership of equals.
We support an open society that rejects discrimination in all its forms and that doesn't deny cultural differences. The variety of identities, origins, religions and cultures is a source of richness and of both human and cultural growth.
In order to reach these goals, we work in several fields such as integration, rights defense, development cooperation and cultural promotion, aiming at social cohesion:
Socio-cultural integration of migrant citizens
Due to the presence of representatives of different nationalities among the founding members (Italian, Rwandan, Sri Lankan, Zairian, Nigerian, Jordanian, Albanian, Togolese, and Tunisian) and in line with its mission, Les Cultures has always dedicated a considerable part of its energies and resources to the issue of integration.
Our goal was – and still is – to promote contact and cultural exchange between different peoples aiming at eliminating stereotypes and prejudices and promoting social cohesion.
Over the years, we have promoted several activities related to the social and political conditions of the countries in the southern hemisphere, fostering the adoption of an informed and supportive position in the public debate, organizing conferences and debates, seminars, training courses and events.
The association has also carried out two studies in local secondary schools about the issue of racism in collaboration with the teachers.
Since 2000 Les Cultures has been working in the education and healthcare fields. We organize several projects aiming at integrating foreign minors in schools, cultural mediation services and foreign adult literacy courses. The association also provides orientation and legal support to migrants.
Huge importance is given to the linguistic and cultural mediation service. It meets the demand for a correct management of the relations with migrants requested by an increasing number of institutions and private entities that need to interact every day with people whose nationalities and cultures are different from theirs.
Les Cultures can rely on the collaboration with qualified mediators whose nationalities are the most present in our area. They act as bridges between foreign and local people aiming at facilitating the integration of the former in the society.
International cooperation
Les Cultures realizes projects of international cooperation to development in Ukraine, Niger, Mali and Ghana.
Following the United Nations Millennium Development Goals, our association implements interventions to guarantee minimum dignity and safe conditions to local people. Cooperation activities are set in the frame of a cooperation plan with medium-long term effects agreed with our local partners and the institutions. The integrated work in the fields of schooling, health and development contributes to an overall action against the causes of poverty. Actions are carried out with the active participation of the population and they enhance local know-how and resources. They are not only a means to meet the needs of these people, but also the vehicle of a broader process of social transformation which guarantees sustainability and long-term results.
Since 1994 Les Cultures has been dealing with therapeutic hospitality, distance support and promotion of cultural activities in the region of Chernigov (Ukraine). This area is one of the most affected by the negative effects of the nuclear explosion that took place in Chernobyl on 26th April 1986.
Since 1997 the association has been realizing projects of international cooperation in the fields of healthcare, schooling, support of economic activities and food safety in the desert areas of Niger and Mali.
In 2018 we started an experimentation in Ghana.
In Italy Les Cultures dedicates a specific effort to promote a deeper awareness of the environment and the culture of the populations involved in the projects, realizing programs in schools and cultural initiatives.
The knowledge of different cultures is a vital condition to cooperate in the construction of a sustainable development and to improve the living conditions of the populations without compromising the balance of the socio-cultural and environmental system.
In over 20 years of activity, we have become one of the most active entities of cultural promotion in the province of Lecco. The promotion of travel and responsible tourism cultures and of the knowledge of new cultures represent the way through which Les Cultures works in order to turn barriers into frontiers.
Our cultural initiatives focus on three different proposals: Immagimondo festival, publishing activities and promotion of conferences and public debates. We also organize language courses in collaboration with our cultural mediators.
Immagimondo – Festival of travels, places and cultures: since 1997 it has been bringing the whole world to Lecco and Lecco in the world. Travellers, writers, scholars, photographers, musicians meet every year in order to exchange ideas, suggestions, travel experiences in one of the most important and historic travel festivals at national level. The purpose of the Festival is to spread and idea of travel that originates from curiosity and will to know people, places and cultures of the world, promoting tourism practiced with respect and responsibility.
Editorial activities: we believe that knowledge is a means of openness and that it is necessary to set a welcoming and inclusive society. That's why since 1998 we have been publishing photographic books that focus on travel and contact with distant places and peoples. In recent years we have travelled around the world telling stories from Niger, Vietnam, Tibet, Mongolia, New Guinea, Jordan, India. The incomes are used to continue our work of international cooperation and integration of migrants on our territory.
Cultural initiatives: we organize events, film projections and public debates aimed at raising public awareness and stimulating reflection on current topics, including those linked to migration and to the structural problems of some countries in the southern hemisphere.